At Animal Education, Kate uses dog training methods are based on natural canine communication and animal psychology. This involves understanding what the dog is thinking and approving or correcting the thought in the dog's mind before it becomes a actual behaviour.

The method used to achieve this is observing left and right brain reactions and adjusting our responses accordingly. The right brain handles all the dogs instant behaviours, flight, fight, chasing prey, anyhting the dog does automatically. Left brain is the logic side, where a dog will figure out an easier way to do things. This is where you want them to be, thinking "yes, what can I do for you?"
The handler is then taught how to use the dog's own canine body language to communicate back to the dog, instead of confusing it with human (primate) body language.

Kate has been a registered member of the National Dog Trainers' Federation (no. A1051) since Feb 1998, certified for obedience, protection and law enforcement dogs. Kate deals with all breeds ranging from small companion dogs who need to learn manners, through to large security and personal protection dogs.

Kate keeps her own training well up to date by regularly attending seminars featuring a variety of renowned overseas trainers.

Kate is a consultant to Cooloola Shire Council and has recently become a member of the South East Queensland Regional Pet Advisory Committee.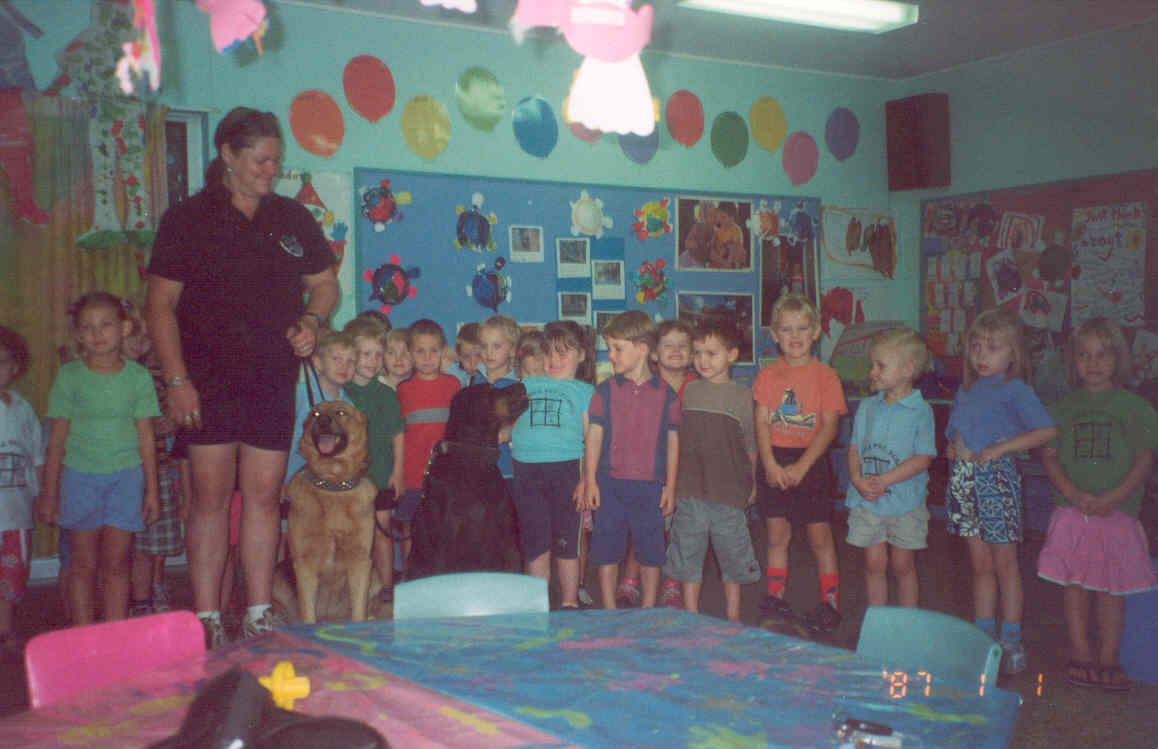 Kate demonstrating dog obedience for One Mile Primary School students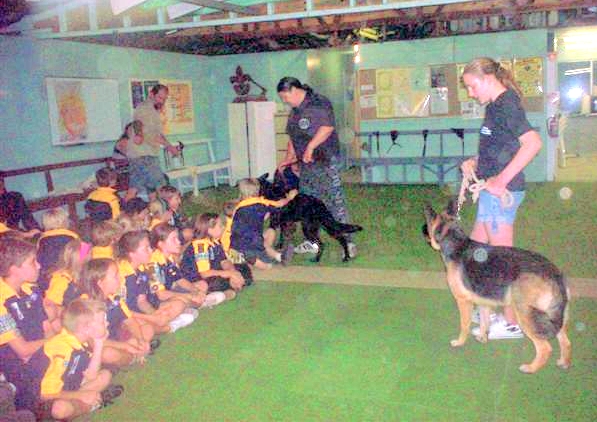 Kate and daughter Jess demonstrating dog obedience for Centenary Cubs, Gympie
Training services provided are:
| | |
| --- | --- |
| | We have high standard kennels for both large and small dogs, public boarding is welcomed for vaccinated dogs. Kennels are open Monday thru Saturday, 8am until dark, closed Sundays. |



Private Lessons in house or at your home
The purpose of private lessons is to educate the owner as well as the dog.
Kate teaches you to solve simple problems such as pulling on a lead, dog not coming when called or correctly imprinting your puppy, in just a few lessons. Or you may undergo a course to train your dog in any area such as advanced obedience, preparation training for showing, tracking or personal protection.
Kate also helps many owners whoes companion dogs have too much aggression.










Dogs Boarded and Trained at the Centre
Your dog may come to us for training to be undertaken on site and then the owner is educated with the dog before the dog leaves the centre. Once again, this can be for basic obedience or more complex tasks.
Visit the Bite Gallery


Trained Dogs for Sale
Kate has at all times, several dogs on hand available for sale as guard or protection dogs. These range from family protection dogs to others suitable for security patrols. These are mostly German Shepherds and Rottweilers and some cross-breeds, available at reasonable prices.


Specialist Areas
Training provided for clients such as service dogs for mobility assistance, herding dogs, preparation for showing, tracking, protection and security dogs, and detection dogs





Goto Top of Page